No, I don't have my creative brain switched on 24/7, but I remembered seeing a
Pottery Barns
picture and the image must have stayed there in the my brain, lodged somewhere, until I spotted dear old Susan!! :)
Not so lazy now!! :)
The great thing about it is that it's soooo great when I'm working on a project and need all my bits and bobs at hand. I can just twirl that Lazy-Susan around to fetch the tools I need! Work it baby, work it!
Without all the tools - Still cute!

This is what I did:
1. Collect empty food cans of different sizes, wash them and paint them with gloss paint.
2. Paint the lazy-Susan base
(wood in my case)
and drill a small hole through each can and base together
3. Screw the cans onto the base with little screws
4. That's it! This photo shows the finish inside the cans.
Use cans of different sizes so you can arrange tools of different sizes!
I tried gluing the cans on
(always lookign for a short-cut..),

but because the bottom of my cans had
a little "lip", you can imagine it was not feasible to stick to the flat wooden base. So I opted for screws!
I used gloss paint for the cans as it gives a more resistant and easy-to-clean surface. Off course you don't have to use food cans, if you find some cute little buckets for sale that fit your base, just replace them. But cans are FREE and recycled, which = $0 - Now, how could I resist?! :)
The PB Version at $49:
My Version - Before and After:
The
Pottery Barns
one costs $49, and I can tell you this one is a lot, lot less! :)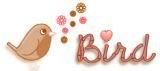 I am linking to these
BLOG Parties
!!