I'd like to introduce you a couple of buddies of mine:
Isn't he a cutie? I was busy making him for a beautiful little girl called Léna (hence the L on the tummy). It was Léna's birthday on Saturday.
Lilac Dream is also lavender scented, which just happens to be one of my favourite smells! To go with the softie, I made Léna a personalised little card that said:
"Hi, I'm a little ted
that was made especially for you.
I hope we'll have fun together!
Can you find me a pretty name?"
It made more sense and actually rhymed in French, but you know what they say about "lost in translation" and all that?! :)
And last but not least, this is
Silver Sparkle!
I actually made this softie a while ago, but since it's my dear Dad's birthday today, I am sending him a little sparkle by post! :)
This is a "manly" ted and I hope it'll brighten up my dad's day! Sorry about the puns...
If you're reading this, Happy Birthday Dad (love ya loads)!
Want to meet some more cuties? Then
click here!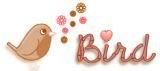 I am linking to these
parties
!