With snow still on the ground, this was my attempt to try and bring some spring loveliness to my indoors!
It was really simple to make, and I can also re-purpose it as table decor for the kids
Garden Party
later in the year (minus the eggs..) ;)
What you'll need:
* Plastic or polystyrene eggs - bought 4 at €1
* Glitter (assorted colours) - Already had them at home
* Decoupage glue (Modge Podge)
* Pins
* Felt (colours to match your glitter) - 1 pack with 10 A4 sheets cost me €1.75
* Hot glue gun
* A tree branch - Courtesy of my oak trees!
* White spray paint - Left over from other projects
* Thin ribbon or string
How to:
1. Spray your tree branch white and let it dry overnight
2. Fill a vase with sand, pebbles, sugar or fake snow (in my case)
3. Apply a couple of pins to each extremity of your eggs. This allows easy handling and you can then rest the eggs over a cup or can to let them dry without smudging.
4. Apply a thin (not too thin) layer of glue to your eggs using a brush (I used a sponge brush), making sure you cover the whole egg. We don't want white patches!
5. Cover with glitter and let them dry overnight.
4. Then attach a string to each egg using hot glue
5. Cut leaf shapes from your felt and secure at the end of each branch with hot glue. This is not only for decoration, but also helps to stop little eyes being poked!
6. Using hot glue again, secure any decoration you may have on hand: little felt birds (like mine), butterflies, fabric flowers, etc. Anything goes, as long as the colours match. I chose pastels, but feel free to let your imagination run with it!
If you want to know how to make the little felt birds, then check back later in the week, ok?

I used most materials I already had at home, just bought the eggs and felt, which came to a grand total of €2.75!! Now that's my kind of craft! :)
All it's left to do is to display with pride!

P.S. - Have I delivered, Lindsay? ;)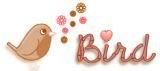 Linking to these
Blog Parties
!