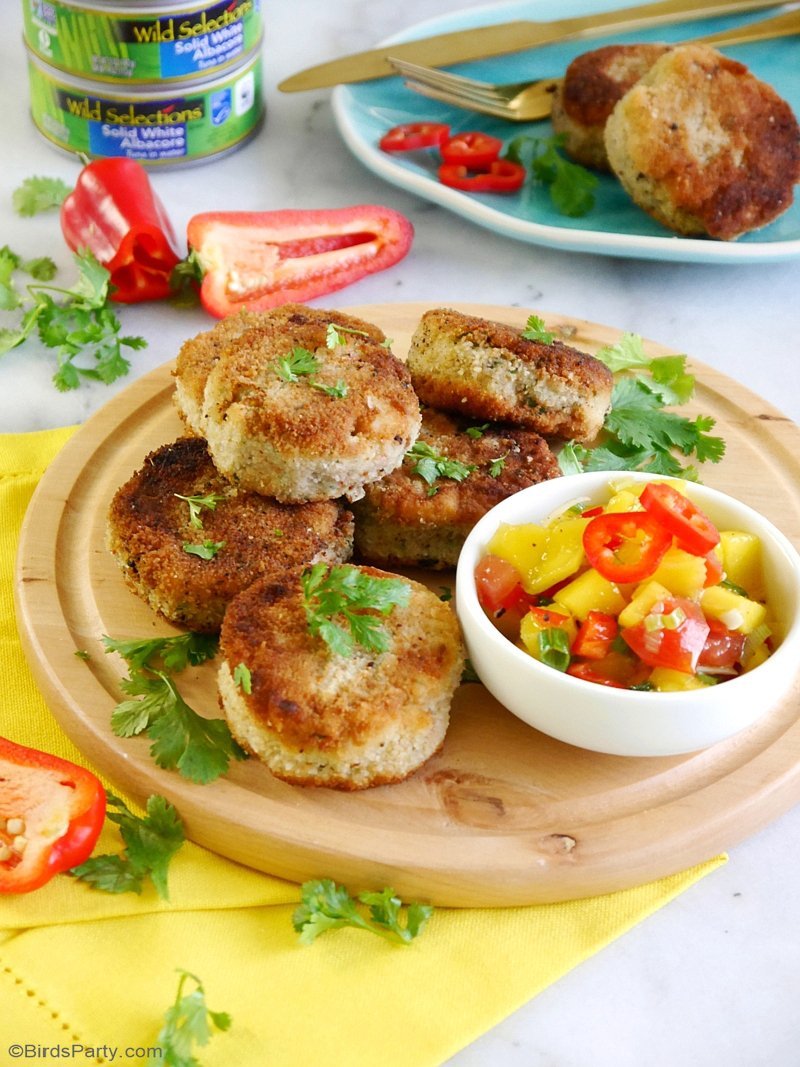 Shop Wild Selections White Albacore Tuna in Water by clicking the image above.
Thank you Wild Selections® for sponsoring this post. For a more sustainable meal, be sure to check out Wild Selections® premium seafood -- it's always healthy, always Marine Stewardship Council certified, and always delicious!
The weather is getting warmer and all I can think about is entertaining outdoors!
And al fresco parties rhyme with fresh and delicious party food and appetizers, like these delicious tuna fishcakes with a side of refreshing mango salsa!
These tuna fishcakes are one of these go-to recipes in my party-hostess repertoire because it's always a hit with kids and grown-ups alike. It's kinda the perfect diner party entree, main or served as a tasty appetizers from now until summer, alongside my delicious mango salsa!
Tuna is a product we love and use often at my house, so buying from a sustainable source is also hugely important! This is why I was delighted to partner with
Wild Selections
to use their
White Albacore Tuna in Water
for this recipe.
Not only does their tuna taste great, but Wild Selections have a unique commitment to sustainability and partnerships with Marine Stewardship Council (MSC) and World Wildlife Fund (WWF).
It all begins with where Wild Selections sources its wild-caught seafood - only from ocean areas that have been certified sustainable to the Marine Stewardship Council (MSC) Standard – the world's leading certification program for wild-caught, sustainable seafood for the past 20 years.
This assessment and certification of oceans areas by MSC ensures that fish stocks are healthy, well managed and plentiful, and each product they make is traceable to the ocean where it was caught so you know where your food comes from and can feel good about it!
Plus, I was happy to know that all Wild Selections products use simple ingredients and are non-GMO Project Verified, and they also donates 13 cents from the sale of each can to support World Wildlife Fund's efforts to protect marine life and expand sustainable fishing practices!
This is all about paying forward so we take care of our oceans for generations to come. What's not to love?! 😍
---
Tuna Fishcakes with Mango Salsa Recipe
Makes 16-18 fishcakes
Ingredients for the tuna fishcakes:
* 16 oz (450 g) peeled and boiled potatoes
* ½ cup finely chopped spring onions (scallions)
* 2 beaten eggs
* 1-2 cups breadcrumbs
* 1 clove of minced garlic
* 1 small, finely chopped red chili
* 2 tablespoons chopped coriander (cilantro)
* sunflower oil for frying
* sea salt to taste (optional)
Mango salsa ingredients:
* 1 large mango, chopped in cubes
* 1 tomato de-seeded, chopped in cubes
* 1 small red chili, de-seeded and finely chopped
* juice of 2 limes
* ½ cup of chopped spring onions (scallions)
* 2 tablespoons of extra virgin olive oil
Directions for fishcakes:
1) In a large bowl add the cooked potatoes and mash with a potato masher.
2) Add the drained tuna, spring onions, cilantro, garlic, chili and mix until combined
3) Shape into 2 inch round cakes and refrigerate for about 30 minutes until firm and cold.
4) Dip each cake into the eggs, then coat in breadcrumbs. Chill for at least 15 minutes before frying.
5) When ready to fry, heat oil in a frying pan, then gently fry the cakes for 2-3 minutes on each side until golden. Do this in batches to avoid the pan getting crowded.
6) Serve immediately sprinkled with sea salt (optional), alongside the mango salsa (recipe below).
Directions for mango salsa:
1) Place the chopped mango, tomato, red chili and scallions in a bowl and mix.
2) Add the lemon juice, olive oil and mix.
3) Season with salt and pepper to taste.
---
I was selected for this opportunity as a member of CLEVER and the content and opinions expressed here are all my own.
This post Party Recipe: Tuna Fishcakes with Mango Salsa appeared first on
Bird's Party Blog