It's official, now. I am in Spring mode!! How else can I explain all my flower-inspired posts lately?!
Check out this sweet photo shoot with my very own, cute little "Flower"!!
Just another quick-to-make, flower embellishment! So simple, that it's cheeky to even call it a tutorial...
How to:
2. Do the same for 2 other smaller sizes, with different felt colours
3. Cut the layers
4. Superimpose and glue the layers together using fabric glue or hot glue
5. Glue a button or bead to the center!
6. To learn how to make a brooch see my
NO-Sew Flower post
:)
This is a great way to inject some Flower Power punch into a "hand-me-down-from-my-older-brother" denim jacket! :)

Flower-Inspired posts all this week!! Don't miss it!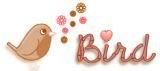 I am linking to these
BLOG Parties
!!