Oh My! I took the day off yesterday
(am writing this post on Thurs)
to enjoy some much needed sunshine with the family
(the thermometer read 30 in the shade!)
, and when I came back, there were 130 emails in my inbox! And only 2 were spam. So I spent most of Thursday day catching up....
Just a couple
(or a few)
cools things to announce before we dive into today's quick
tute
:
My Tulle Butterfly Tutorial was featured at Whip Up! Thank you

Kathreen

, and

Yay

!!
My dear friend

Soraia

from So

Artes

Criativas

is having an awesome giveaway here
Bird Crafts is being featured next week somewhere very, very cool...More on that later! ;)
Lastly, have you guys notice that Blogger has brought back spell check? Can I get a collective amen?! :) All they need to do now is to sort out the comments section so we can reply to comments right below each comment - Hint, hint..
Now I've got that out of the way, here's a very simple, quick tutorial for a Mother's Day Bunting or Banner, but really the same process can be used for any occasion!
It's so simple that when I decided to post it a felt a bit like when Delia brought out a
"How to Cook"
book and the first chapter was
"How to Boil and Egg"
! I am not trying to patronise anyone, but sometimes the simpler things
are
the trickiest...
So if you'd like to make a banner/bunting but never made one or think you can't because you don't have a
cricut
machine
(whatever that is..)
, then I show you that it's NOT tricky and all you need is:
* A whole puncher - I used a puncher that punches single holes
* Some ribbon, thick enough to pass through your holes.
* And Love :)
First cut your paper circles using a scallop or round circle puncher or just cut by hand and stack as many circles as your puncher will take on top of each other.
Punch 2 holes on opposite sides of the circles.


Take one of your circles and thread ribbon into first hole, passing it behind the circle.
Pull the ribbon out via the second hole.

Repeat for all your other circles until you have a banner! I like to leave about 15cm or about 4" of ribbon at either ends of the banner for hanging or just for decoration.
See? I told you it was simple. :)
You can use squares, triangles, bigger circles....Even attach bows in between each paper circle for extra cuteness!
Off course you don't have to use them as a banner/bunting. How about tying it around a gift box for mum? Looks cute, huh?
That's it for today my friends, but come back on Monday for kind of a "fairytale" post ;)
Have a great weekend
(praying the sun comes out again so we can head to the seaside!)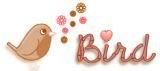 Linking to these
Blog parties
!
If you haven't yet entered my Mother's Day Giveaway click here! :)